In Spring of 2021, seven alumni teams joined forces for GiveBackHack's first-ever Rocket Fuel Round. Stretching from March 27th through April 3rd, 2021, Rocket Fuel Round aimed to help existing GiveBackHack's social enterprise alumni combat their biggest business challenges through Design Thinking.  This was an opportunity for these teams to receive training, mentoring, and the opportunity for funding. GiveBackHack granted $4,000 of additional funding to our teams at the conclusion of this event thanks to IGS Energy, The Columbus Foundation, and additional community support!

---
Participating Teams:
3 Tree: Working to help individuals develop environmentally sustainable habits.
Bonifier: Building a chat-bot to accompany critically ill children and track their emotional wellbeing.
The Good Bye: Making the end-of-life planning process easier for families.
Let Teachers Teach: Supporting educators in their quest to help Individual Education Plan (IEP) students succeed.
The P.A.L. Project: Preserving, sharing, and celebrating African heritage and culture through workshops and programs.
Positive Transitioning: Supporting the successful transition of individuals during and after incarceration through direct and virtual services.
Wild Tiger Tees: Providing work opportunities and mentorship to youth at Star House youth drop-in center through screen printing.
---
Teams jumped into a Prototyping workshop on Saturday afternoon, tasked with accomplishing a prototype and test of their biggest business challenge by the conclusion of the event. Of course, a GiveBackHack event isn't complete without our community. On Tuesday, March 30th, we invited our community supporters in for Rocket Fuel Round Community Night. It was here that teams got to share their progress and ask for support from mentors, organizers, and community advocates.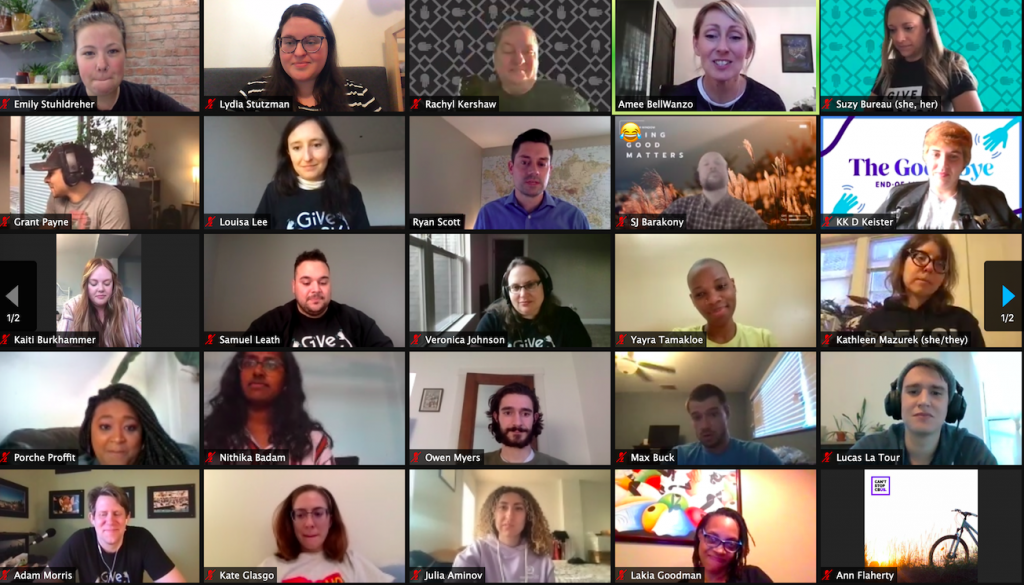 In their final pitch videos (view them on Instagram) teams were asked to explain how they are using Design Thinking and Iterative-Product approaches to build and scale their business as well as explain what they would use the funding for. 
Thanks to our partnership with SEAChange, we were able to award two spots in the SEAChange Signature Cohort this summer. SEAChange social enterprise accelerator helps build social enterprises from the ground up and is a fundamental next step for the success of our teams.

Funding Awards:
Wild Tiger Tees: $500 to advance marketing of their new youth-designed shirt initiative.
3 Tree: SEAChange Cohort spot + $500 to continue the testing of their sustainable habit-building program.
Let Teachers Teach: SEA Change Cohort spot + $1,500 to build a working prototype of their IEP product for teachers
Bonifier: $1,500 to develop a secure database for their youth emotional-wellness user data.

Congratulations to all the teams who participated.
---
The mission of GiveBackHack is only accomplished through the generous support of our sponsors, including our two sustaining sponsors: IGS and The Columbus Foundation. Additionally, GiveBackHack continues to support teams moving forward thanks to CoverMyMeds, our Continued Success Sponsor. As well as United Way of Central Ohio that operates as our fiscal sponsor.
In addition to the critical support of our sponsors, GiveBackHack would not happen without our impressive and ambitious organizing team. These talented folks pulled off an incredible opportunity to inject "rocket fuel" into our alumni teams: Max Buck, Grant Payne, Lydia Stutzman, KK D Keister, Kate Glasgo, Krista Faist, Rachyl Kershaw, Ann Flaherty, and Adam Morris.
About GiveBackHack
GiveBackHack gives people the power to transform their communities for the better, starting with events that bring together passionate doers and experts to create solutions to real problems through a Lean Startup and Design Thinking Framework. The organization provides the framework, access, resources, and support needed to impact our communities for the better. Visit ​givebackhack.com to learn more about how GiveBackHack serves as the launchpad for social innovation.