GBH was founded in 2015 under the simple yet profound principle that we all have everything we need within ourselves to create the change we wish to see in our communities.
We bring Product Management and Design Thinking practices to the social impact space. We know that empowering individuals through our process helps create more impact and offers a pipeline into flourishing social enterprise ecosystems.
GiveBackHack specializes in providing a platform and a process where aspiring entrepreneurs can take risks and pitch ideas. This fuels innovation and supports founders of all backgrounds to navigate the early stages of entrepreneurship in an encouraging and empowering environment. Our teams often say GBH was the push they needed to take a chance on their idea.
GiveBackHack is a proven and impactful pre-accelerator partner, providing support programming that teaches entrepreneurs how to gather feedback and pivot accordingly before moving into a comprehensive accelerator program.
"GiveBackHack makes Design Thinking understandable and entrepreneurship more attainable. These are the things our community needs."

– Jerry Valentine, Renter Mentor Founder
GiveBackHack Services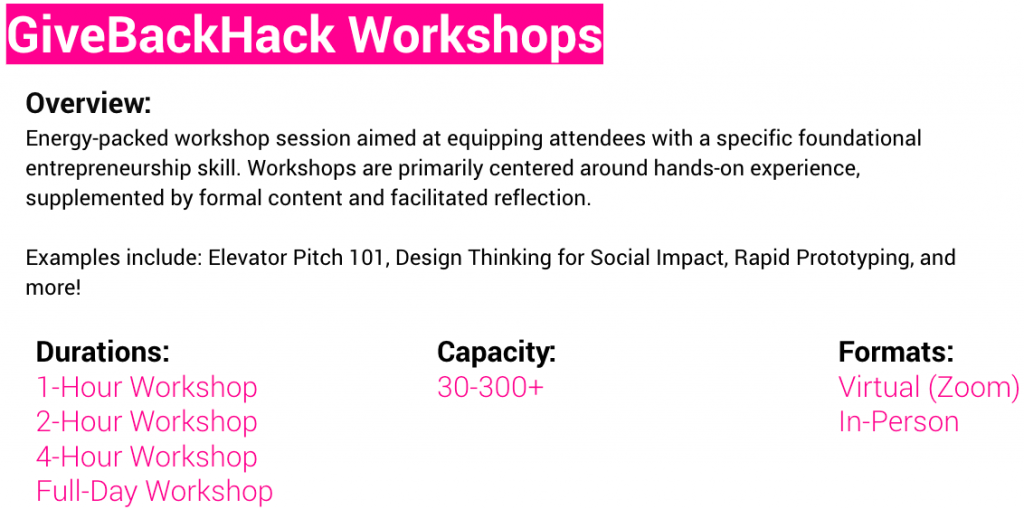 ---
Without GiveBackHack, I know we would not have had what we needed to get our product to where it is now/where it needed to be, or to be accepted into this social enterprise accelerator. Without the GiveBackHack program, I know we wouldn't have made it this far.

– Ryan, Bonifier Founder
---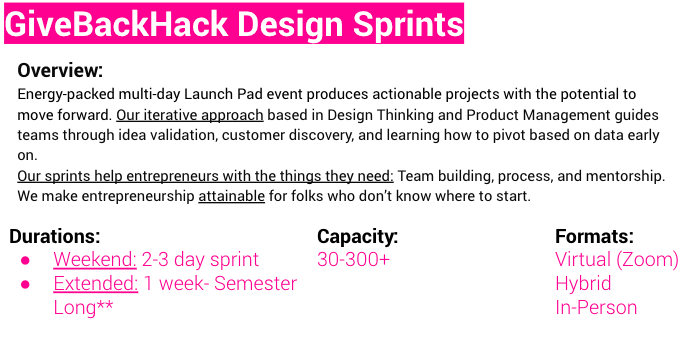 ---
Let's Chat!
We're excited to collaborate with you to design a program to meet your Community's or Accelerator's needs. Email Emily Stuhldreher (emily@givebackhack.com) to set up a call to talk about how we can help!