At GiveBackHack Cleveland 2019, there were three teams that walked away with funding and resources to move forward. Project ADAM, an algal bloom testing kit and community engagement program, was one of the most impressive.
Team ADAM describes their project as follows:
Algal blooms, or sudden growths of algae due to chemical pollutants in water and the worldwide rise of water temperature, are responsible for pet and wildlife deaths, human illness, and an impact of millions of dollars on the local economy. To combat this issue in the Cleveland area, we introduce ADAM: a data collection device that promotes aquatic health through educational engagement. ADAM will employ the ideology of citizen science to connect high school students with local researchers. Our diverse team of engineering students and young entrepreneurs has the design and fabrication experience necessary for production as well as connections for launch into the school system.
At the GiveBackHack weekend, the team was able to create a fully-functioning prototype that served as a minimally viable product to leverage to begin to test assumptions with their users – young children and their teachers. Their hope is to spark interest and engagement in Biology and Environmental understanding/advocacy through water testing, alongside providing an opportunity for this testing to be reported to the government agency responsible for monitoring our water supply. This agency does not currently have the resources it needs to continuously test waters, so the team hopes that ADAM can serve as an opportunity to expand the agency's efforts, providing them with additional data points that will help the agency more strategically identify areas where they should focus.
One of the key ways GiveBackHack is different from most weekend-long events or hackathons is our focus on sustainability and moving forward. This manifests itself in a number of ways, but starts on Sunday night where a group of community judges assesses the projects and awards resources and funding to the top innovations. At GiveBackHack Cleveland 2019, The Cleveland Foundation provided $7,500 to be awarded to top teams. ADAM walked away with a pledge of $2,500 in support, given they could leverage that funding to test their riskiest assumptions in regards to their product and business while also working to create impact.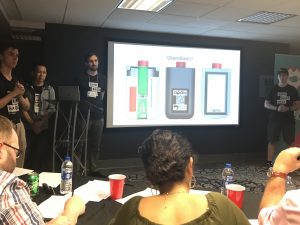 This team, led by Case Western students Colb Uhlemann, Julian Narvaez, Junhyung Park and Nathan Labrie (with special mention to Gar Waterman & Mark Sun for their help kicking the project off during the GiveBackHack Cleveland weekend) is progressing well after the GiveBackHack weekend in September.
In just one short month following the initial GiveBackHack-weekend, Team ADAM has a full plan for leveraging the initial grant capital to create impact. They have obtained support from the Cleveland Water Association and through the funding provided by the Cleveland Foundation, they will be able to create up to 3 iterative prototypes (testing each and modifying the design based on what works well or does not work) prior to investing the rest of the funding into 10 total initial products to be leveraged for classroom research. Their plan includes working directly with educators to finalize curriculum and in-class user testing is scheduled to begin in March of 2020.
Another big focus of the GiveBackHack process is the community we create. We request each team think about how they can get the community involved, as we know that it takes a village to ensure an organization can be a success! Interested in helping out? Email success@givebackhack.com to get connected!
Key Needs & Asks for Help of the Community
Access to high school classrooms for further prototyping
Industry experts willing to sanity check the project
Market research assistance to check available markets
Accurate water data sources for appropriate calibration