Event Overview
On February 1, 2019, 95 excited Baltimore community members left their 40+ hour work week, battled the snowy weather, and showed up at the Allovue office space in the Remington neighborhood in Baltimore to commit an entire weekend to bringing a social impact idea to reality at GiveBackHack Baltimore 2019.

GiveBackHack is a launchpad for social innovation. GiveBackHack brings together designers, developers, business people, non-profit leaders, and engaged citizens to build sustainable social enterprises. The event blends design thinking and lean startup concepts with domain expertise in the social impact space to create the building blocks for social innovation. Participants come to the event with a brand new or partially-vetted idea for a social enterprise and leave with the first stages of a user-validated product, alongside business and impact models.

Impact by the Numbers
With the help of our sponsors and supporters who provided time, expertise, and funding, GiveBackHack empowered 9 total teams to quickly test and iterate their ideas to solve the social issues they see around them. From mentoring to prototyping tools, every team was supported with various resources to help them continue to move forward.

Success by the numbers:
24% of attendees were classified as "Business Hustler", with a background in business or entrepreneurship
31% of attendees self-identified as software engineers, coders, developers, or designers
9% of attendees were "Community Advocates", or individuals who simply want to make a positive impact
55% of attendees studied or worked in social impact
9 newly formed social enterprises presented their products to a crowd of 100+ Baltimore community members on Sunday evening, where:
100% (9 of 9) of teams presented minimum viable products, social impact, and business models
44% (4 of 9) of teams received post-event resources (including marketing, legal, accounting, and software related help)
22% (2 of 9) of teams were awarded financial resources
Winning Teams
P.A.T.C.H.
P.A.T.C.H. is increasing the number of student engagement by providing art based programs in underserved communities, due to the lack of art based programs in those areas. They uniquely use social emotional learning curriculum to drives self expression that ultimately leads to independent thinking and self directed learning.
Won $2,000 to move their idea forward
Continue to follow their progress: Instagram
"GiveBackHack has lived up to its mission. P.A.T.C.H has build a strong collaborative with individuals who have expertise/experience in multiple sectors, especially for the founders native to Baltimore."

Panifold
Panifold builds a low-cost and transportable musical instrument that can serve as a practice tool and musical aid for steel drum ("pan") groups in school and communities. Two members of this group currently play in a local group (St. Veronica's Youth Steel Orchestra – think Island/Caribbean music) that serves the community youth in Baltimore's Coldstream-Homestead-Montebello area, and instrument cost and transportation of the acoustic pans are high barriers to participation.

They are overcoming those barriers by building an electronic steel pan that is foldable and/or collapsible, making transportation a non-issue. Additionally, the design and materials used to create the pan will be selected to make it affordable and approachable for potential players of all ages.
Won $1,000 to move their idea forward
"I was lukewarm about working on my idea prior to GiveBackHack, but seeing other people get excited about my idea and wanting to help make it a reality is incredibly exciting and inspiring. It's fantastic to be around a group of folks who are so dedicated to building things to help the city and communities we're a part of."

Ben Garrison, Panifold
Refugee Connection
Refugee Connection will bridge refugee providers with adequately trained and well vetted volunteers. Our database will allow providers to view applications of vetted potential volunteers that would be a resource to their organization. Upon accepting a role in an organization, volunteers will have to complete cultural and organizational specific training that have been approved of by their matched organization.

Won in-kind resources to move their idea forward
Working with John Hopkins Social Innovation Lab
Refugee Youth Film Festival
Multimedia storytelling through the lens of a camera helps frame personal narratives of refugee populations after their social support structures are uprooted — this format is a scalable, effective psychosocial intervention in the current landscape where health care professionals serving these communities lack psychiatric knowledge around trauma, suicide, and depression. Refugee youth are especially vulnerable in this underserved climate — however, they also are the most open to creating new community identities and connections that can alleviate these problems. It's our belief that an interactive process like filmmaking, in which refugee youth are the drivers of their own narratives, is a transformative solution worth piloting in Baltimore City. This will culminate in a half-day, first-of-its-kind film festival at which their parents and families, representatives from community-based organizations, and the general public can convene around these short films produced by displaced youth. Not only will this initiative be therapeutic to the individual, but it will also benefit the general public; as perspectives are shared, dialogue can occur, and community members and leaders can be influenced to transform the city to benefit refugee populations, creating a more inclusive society.

Won mentoring session to move their idea forward
Continue to follow their progress: Instagram
"Really loved the resources and the opportunities you guys brought to us. Definitely looking forward to the next one!"

"It was phenomenal that there was another group working within the same industry/space that we were hoping to tackle; it helped having two teams with different connections but similar interests because we could help each other with validating and connecting to others."

"I met some fantastic people I plan to remain in contact with following the event! Thanks for allowing that to happen!"

"It was great to see passionate changemakers come together to challenge the status quo in the various spaces we engaged with."

And with that – GiveBackHack Baltimore 2019 is a wrap. Thank you again to every partner who helped make it happen. These organizations are the reason GiveBackHack was able to come to life in Baltimore and for that, we are incredibly grateful!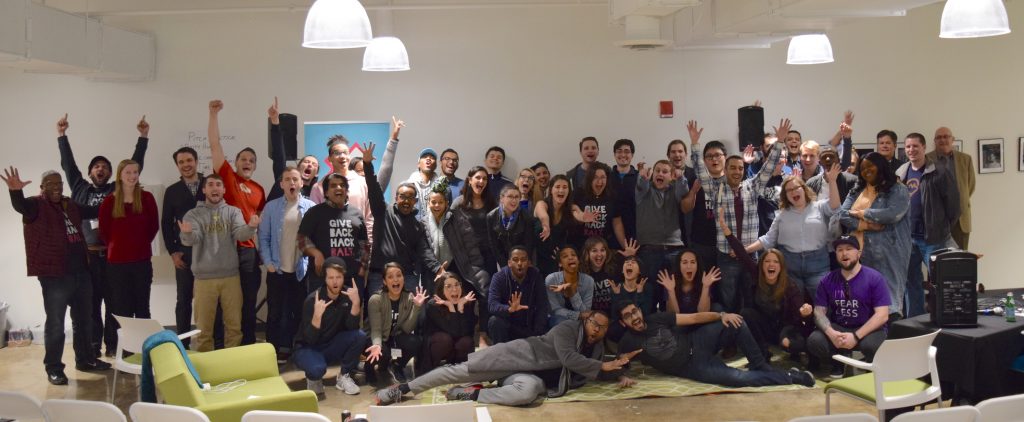 See more photos from the event on Flickr.
2019 Sponsors
GiveBackHack's impact, and the impact that its participants have on their communities, would not be possible without the generosity of our sponsors. Thank you to each organization that supported GiveBackHack with their resources, their time, and their support of our mission.