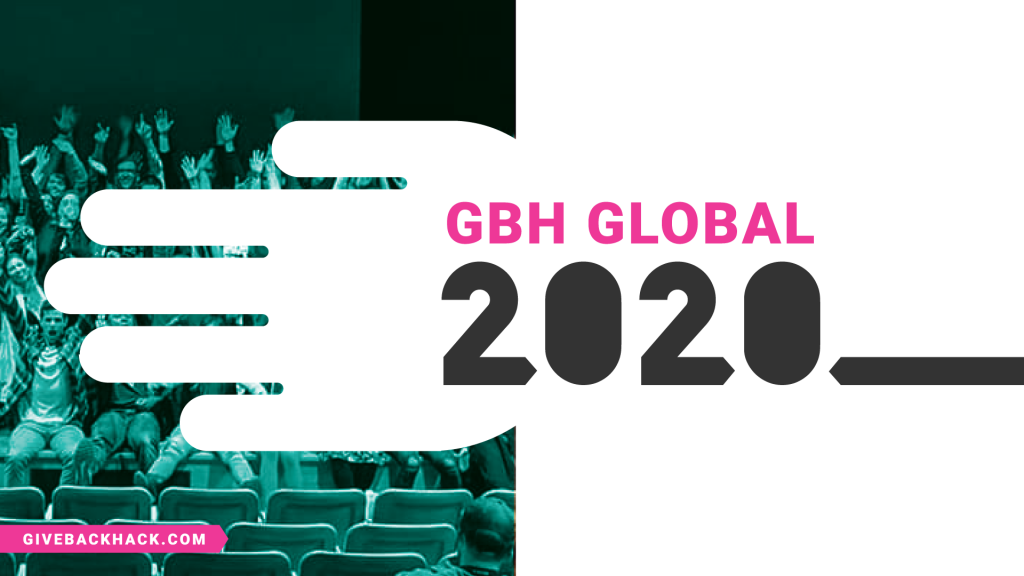 What will GiveBackHack look like in 2020?
The team at GiveBackHack is committed to keeping everyone's health and safety at the forefront of our decisions. Just the same, we want to ensure that the GiveBackHack experience is as fun, empowering, and impactful as it always has been.
In 2020, GiveBackHack will be a global, virtual week of events kicking off at 6 p.m. EST on Friday, October 9th and concluding on Saturday, October 17th. Prior to the start of the week, participants can submit their ideas along with a video recording of their pitch via our application process.
Who attends GiveBackHack?
Participants come together from 4 main categories:
People in the impact space — folks who work at non-profits or in social enterprises, folks who volunteer, who have experienced the problem themselves, or engaged citizens
People in the tech space — designers, developers and other technical talent
People in the startup/business space — those who understand monetization strategy, how to commercialize products, sell them, etc.
Anyone: If they come with a great attitude, are willing to work and learn, and can figure things out as they go. If you can Google something, GiveBackHack is right for you!
Do I have to pitch an idea to participate in GiveBackHack?
You don't need to have an idea to participate in GiveBackHack. Participants can join any team that forms around the top pitches that emerge on Friday night.
What types of ideas are pitched at GiveBackHack?
GiveBackHack is ideal for an early-stage idea (partially vetted idea) or a brand-new idea. During the event, individuals with ideas and early-stage companies come together to share team members with different skills, networks, and resources to move forward.
What is a partially vetted idea?
A partially vetted idea is any idea where work has already started. If you have a prototype, a website, customers, users, or have received funding or awards in the past, your idea is considered partially vetted.

Partially vetted ideas need to be approved via application before being pitched at the event. This process ensures GiveBackHack is the right launchpad for you. When your idea is approved, your admission will be free!
How is GiveBackHack different from other hackathons?
A few ways. First, we accept partially vetted ideas. For this reason, GiveBackHack can be a great next step after another hackathon or community event. We love working with other community hackathons, grant application workshops, concept academies and other events to help ideas find team members, go through additional stages of vetting and receive next-step resources.

Second, we focus on the week itself being a launchpad. Progress on an idea doesn't end once the event does. Rather, it's just kicking off. After the event, we connect the newly formed social enterprises that come out of GiveBackHack to the resources they need to move forward. Resources depend on the community but have included social enterprise accelerators, entrepreneurship workshops, social impact incubators, concept academies and more.
Third, we're focused on bringing together a diverse group of attendees. At GiveBackHack, you'll find all levels of expertise: from experienced professionals with 10+ years of a career under their belts to students obsessed with the latest trends. You'll also find different types of experience: GiveBackHack actively works to find participants from 3 key categories: Impact (individuals who deeply understand issues through personal experience or day-to-day work), Tech (Designers, Developers and more who understand how to take a vision into a prototyped reality), and Startup/Business (people who understand how to commercialize and monetize technology).
The goal of GiveBackHack is to lower the barrier to entry, minimize the risk of starting out on your own and bring together the impact, tech and startup/business communities as equals to make a social impact in the world.
What if I am unable to attend every event throughout the week?
We are fully aware of the barriers presented by the transition to a virtual event and are doing everything we can to best accommodate participants throughout the week. For 2020, we have opted to expand the schedule of events to occupy a full week to ensure that each team has additional time and flexibility to build an idea that each member can be proud of.
In the event that you are unable to attend a given session, workshop or meeting, we ask that you do your best to communicate with your team members thoroughly and frequently before and after your absence. Let them know the circumstances of your absence and work together to find the best way for you to stay involved and in-the-know.
What happens if my idea doesn't have a team to move forward with at GiveBackHack?

GiveBackHack is all about community. We usually have 50+ pitches and only enough attendees for about 15 of those ideas to move forward. Unfortunately, this means that not every idea will be picked. If your idea doesn't have a strong backing, it may just be that this particular event didn't have the appetite for it just yet!

If your idea isn't picked, we highly encourage you to join another team. The connections you make during GiveBackHack will be instrumental in your journey to being an agent of change!
How are teams formed at GiveBackHack?
On Friday night, GiveBackHack organizers facilitate a few activities to give participants success tips to apply throughout the week and foster connections between fellow participants. Towards the midpoint of the evening, we will review pre-submitted pitch videos and have all attendees vote on the top ideas. Teams will then form around the highest-voted ideas.

If you bring your own idea, it's up to you to recruit your team. Here are a few tips to maximize your success and garner support for your mission:
Post your idea in advance as a pre-submitted idea.
Promote your pre-submitted idea via social media or in discussion at events prior to GiveBackHack.
Practice your pitch to make your video more polished and engaging.
Listen to and integrate feedback from others on your idea (what you find most engaging may not be the same for everyone!).
Create opportunity for additional leaders (Coming to the table with an idea and indicating that you want to bring others on as equals is powerful. There is plenty of work to get done on an idea and a lot of leadership in varying areas to go around. No one wants to work on a team where they don't feel equal or empowered.).
Get to know other attendees as people. Casual conversations help folks understand if you're the type of person they'd enjoy spending long hours with as you build up social entrepreneurship together. When the moment is right, you can begin to talk about your passion for your idea, too!
Is GiveBackHack a good place to recruit team members? Why do you ask about finding cofounders?

GiveBackHack is not a place to find free development and strategy work. It is a place where you can find partners who take on an early (sometimes cofounding) role within the organization. No single person is "CEO" at GiveBackHack telling folks what to do – people come together as a team.
Do teams always move forward together after GiveBackHack?
We do not require that a full team move forward after GiveBackHack. Sometimes folks decide they enjoyed the experience, but it's not the right idea/time/team for them – and that's fine. Teams are required to work with one another to identify the steps that make the most sense to them.
Do ideas always move forward after GiveBackHack?

While on average >50% of ideas move forward out of GiveBackHack, not all ideas are right to move forward. In fact, at GiveBackHack, we take just as much pride in the ideas that move forward to make an impact compared to the ideas that do not.
Who owns the intellectual property for the ideas submitted or created during the GiveBackHack event?

GiveBackHack as an organization and as an event does not promote or endorse any specific guidelines around intellectual property.

We award funds and in-kind resources to top teams with great ideas, but intellectual property considerations ultimately fall to folks with legal expertise outside of the realm of GiveBackHack and our organizing team.

All of that being said, the ideas pitched at GiveBackHack are just that: ideas. At such an early stage, until crucial validation steps are made to prove that an idea has value, intellectual property is not traditionally a serious concern.

We recommend you take the time to reflect and identify if GiveBackHack is the right launchpad for you. If you're uncomfortable sharing an idea, feel free to pick a different idea to share or join another team. GiveBackHack is built on the opportunity to work with your community!